Introducing seamless integrations between Bubble PPM and other applications

Bubble® Software announces a technology partnership with Workato to embed integrations into the heart of its Project and Portfolio Management solution Bubble® PPM
Cambridge, 01/09/2021 — Today, Bubble® Software, a leading provider of Project and Portfolio Management (PPM) solutions, announces a technology partnership with market-leading Integration Platform as a Service (iPaaS) vendor Workato® to provide its customers with a native integrations module that sits within the Bubble® PPM platform.
As businesses continue to embrace digital transformation and rely on multiple software systems and data points to feed into their projects and portfolios, the need for efficient data synchronization and streamlined processes becomes paramount.
Recognizing this need, Bubble selected Workato based on its class-leading integration platform. Workato provides Bubble with the infrastructure, flexibility, and security required by the company's global client base.
Announcing the agreement and the launch of the new Bubble® Connect module, Ben Cann, Chief Technology Officer (CTO) at Bubble advised that the partnership offers clients an affordable and scalable route to seamlessly connecting data and automating workflows across a diverse range of business applications.
It also entirely removes the need for clients to manually upload or re-enter data into Bubble from their wider software ecosystem via single/bi-directional, triggered, or real-time, data flows.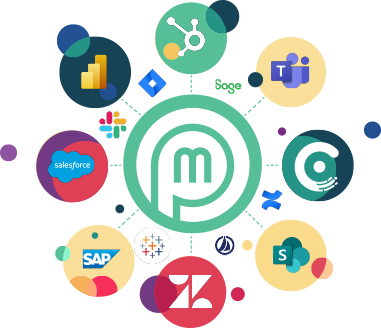 As a renowned leader in the integration platform as a service (iPaaS) industry, Workato's visual workflows (or 'recipes') are considered leading edge in terms of configurability, traceability, and trackability. Recipe creation, volume of data transferred, and even error handling can all be managed by client-side teams.
Chief Operations Officer (COO) Jonathan Platt added that:
"As a modern platform, Bubble® PPM was designed to integrate well with other software from the start. The partnership with Workato takes this to the next level and will save us, and our clients, valuable time when it comes to integrating multiple operations and applications into Bubble. Connecting data in new and powerful ways, can only improve our clients' ability to make better, quicker, fact-based decisions"
The embedded Bubble® Connect integrations module is now available to all users of the Bubble PPM project and portfolio management solution. To learn more about how these integrations can transform your project management practices, visit the Bubble® Connect integrations webpage or contact hello@bubblegroup.com
If you'd like to learn how Bubble's Project Portfolio Management software could meet your needs, please follow one of the links below or contact us on.
About Bubble
Bubble® is a leading software company specialized in the development of Enterprise Project Management and Project Portfolio Management (PPM) solutions.  Our cloud-based PPM software, Bubble PPM™, helps organizations in Innovation, R&D, New Product Development, and other disciplines to select the right projects, execute them reliably, and improve productivity. Founded in 1999, the company is Headquartered in the UK, serving customers across the globe.
About Workato
Workato is the leading cloud-native integration platform for enterprise automation. Recognized as a leader by both Gartner and Forrester, Workato is trusted by over 8,000 customers, including leading brands such as Slack, Box, and Coupa. Workato's unique blend of enterprise-grade capabilities, consumer-grade usability, and no-code/low-code flexibility enables business users and IT to collaborate, build, and operate integrations at scale. For more information, visit www.workato.com