Our portfolio management tools ensure better performing, higher value project portfolios
Get a real-time overview of the portfolio for informed decision-making through a full suite of reporting and analysis tools
Optimize for short and long term portfolio value
Ensuring you deliver on your targets and your strategy…
Create transparency
Automatic consolidation of data within a single source of truth means users are always up-to-date with the project and portfolio information they need.
Connect strategy and delivery
Everything's synchronized, so you can see at-a-glance how your projects are delivering on your high-level objectives or where you might have gaps to address.
Keep all projects on track
Updates to projects and plans are instantly reflected in delivery timelines and other views, making it easy to manage projects through their entire lifecycle.
Strengthen project governance
Make fact-based decisions and improve process consistency and compliance by embedding your best practices and Key Performance Indicators (KPIs) into the platform.
Continuously measure progress and improve
Centrally monitor and manage the performance metrics and learnings reported up through the portfolio. Inbuilt tools make it easy to incorporate quality measures and process improvement.
Build and share custom reports
Automated and report building tools help you to report on portfolios and their projects with little to no effort, meaning you can spend your time delivering on objectives, not reporting on them.
Manage all your opportunities, from idea to outcome
All critical information at your fingertips
Bubble PPM helps you connect project delivery to company strategy by uniting planning with execution.
See your whole project portfolio or just a sub-set of projects in one, fully configurable, personalized view.
Automated up-flows of management information provide a true picture of the fiscal (or other) potential of projects, making it easy to identify best, worst, or rising, portfolio performers.
Filter, sort, or group, projects according to any portfolio variable (e.g. lifecycle state, progress, status, type, health, priority, market, brand, region, business unit, financial, workstream etc).
Dashboard, list, and timeline views make its easy to monitor delivery against targets, performance indicators, or other key milestones.
Benefits:
| | |
| --- | --- |
| Project tracking tools | Project portfolio dashboards |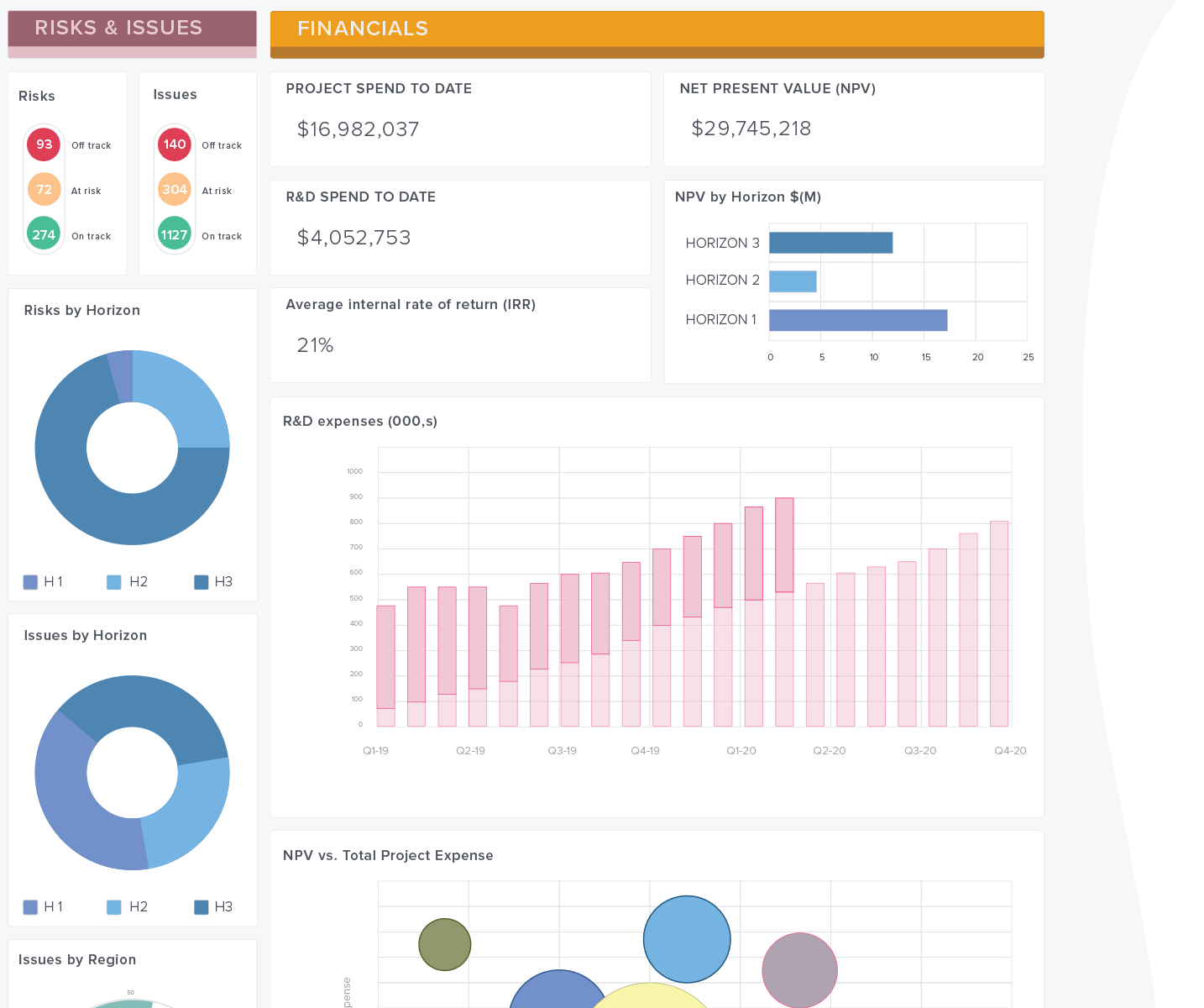 Manage related projects together to improve performance
Projects rarely exist in complete isolation. Our program and project management tools allow portfolio managers to manage many processes or projects in tandem. Track delivery according to priorities, dependencies, or other drivers.
The ability to create and link parent and child projects provides an oversight of all project activity while, at the same time, focusing on higher-level program goals.
Line extensions, annual updates, or other Projects can be duplicated in whole or in part and required elements are copied across, saving valuable time and effort.
Process measurement tools allow you to spot, analyze, and continuously refine process blockers and bottlenecks.
Benefits:
| | |
| --- | --- |
| Program manager tools | Structured portfolio management tools |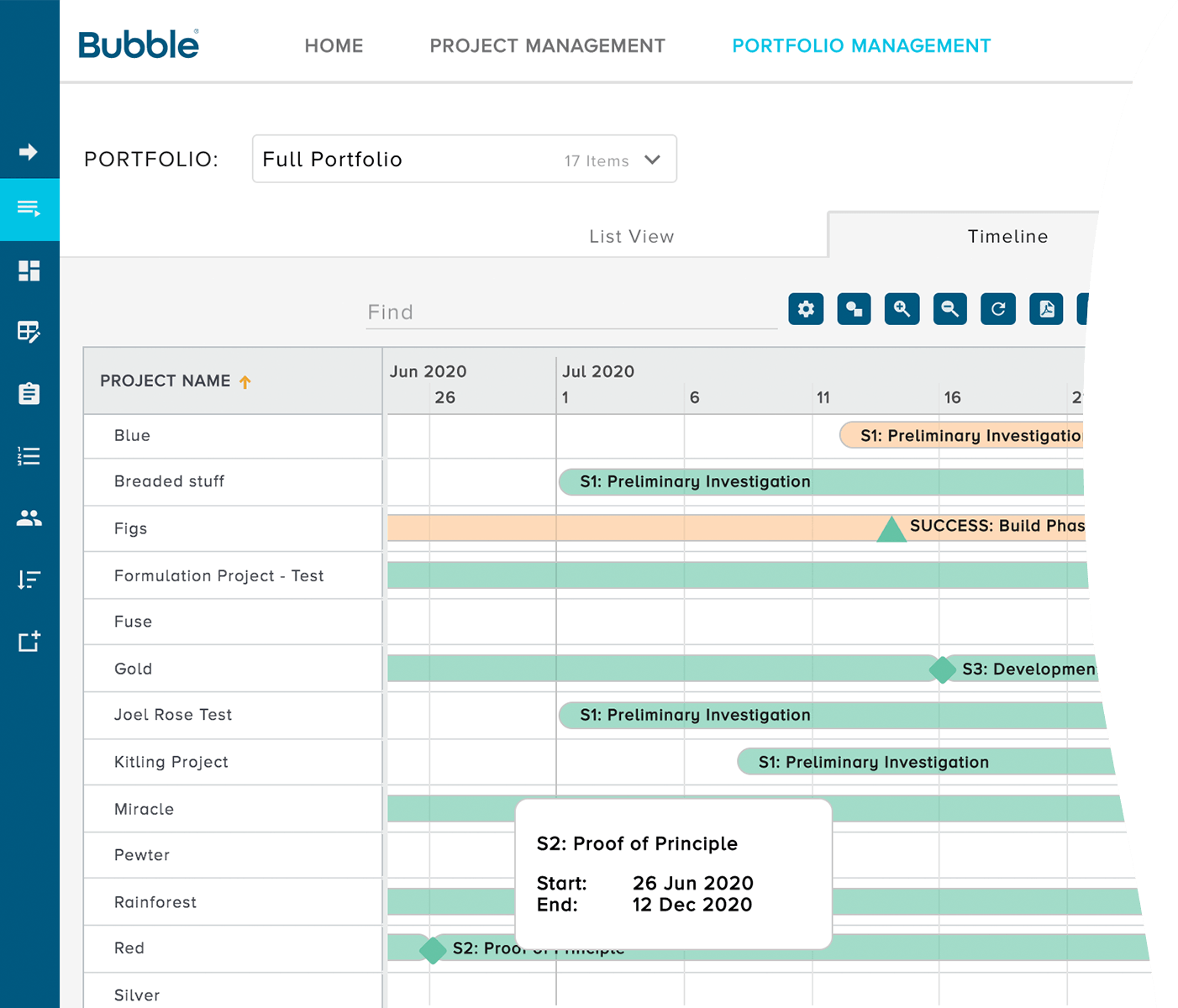 Keep portfolios on-track by identifying problems as they occur
Bubble PPM helps you to manage more projects, more effectively, because all key updates are reported up through the portfolio in real time.
This improves your confidence in making and keeping commitments, because risks, issues, budgets, and other priorities are always clear and aligned to the bigger picture.
Elements Data can be sorted and grouped by reporting periods, ownership, status, liklihood, or other factors, then exported for further analysis or reporting purposes.
Key learnings can be tracked across individual projects or clustered by type, helping you to continuosly improve or drive change management efforts.
Benefits:
Portfolio risk management tools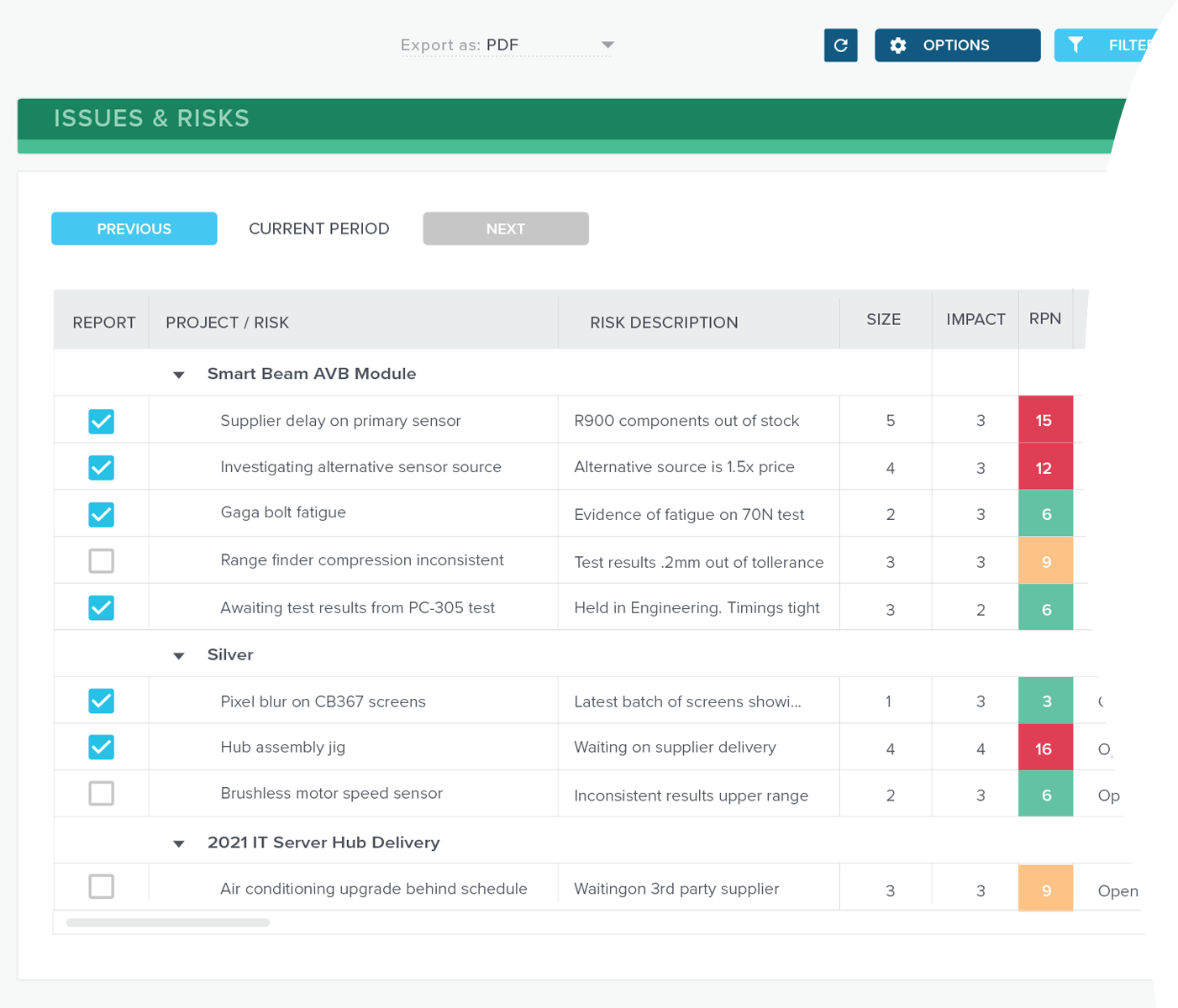 Improve the speed and reliability of all your portfolio reporting
Personal and organizational dashboards help improve productivity and reduce project failure rates by coordinating priorities, increasing awareness of dependencies, and eliminating the duplication of effort.
Data can be easily extracted from the system in multiple ways. A flexible report building module allows you to define the exact report formats you want, always drawing upon the latest data.
Create shared or private reports to aggregate and track things like key project financials, upcoming milestones, resource assignments, and other project data.
All reports can be exported with a single click, making further analysis in Excel or PDF reporting a non-burdensome task.
Benefits:
Portfolio management reports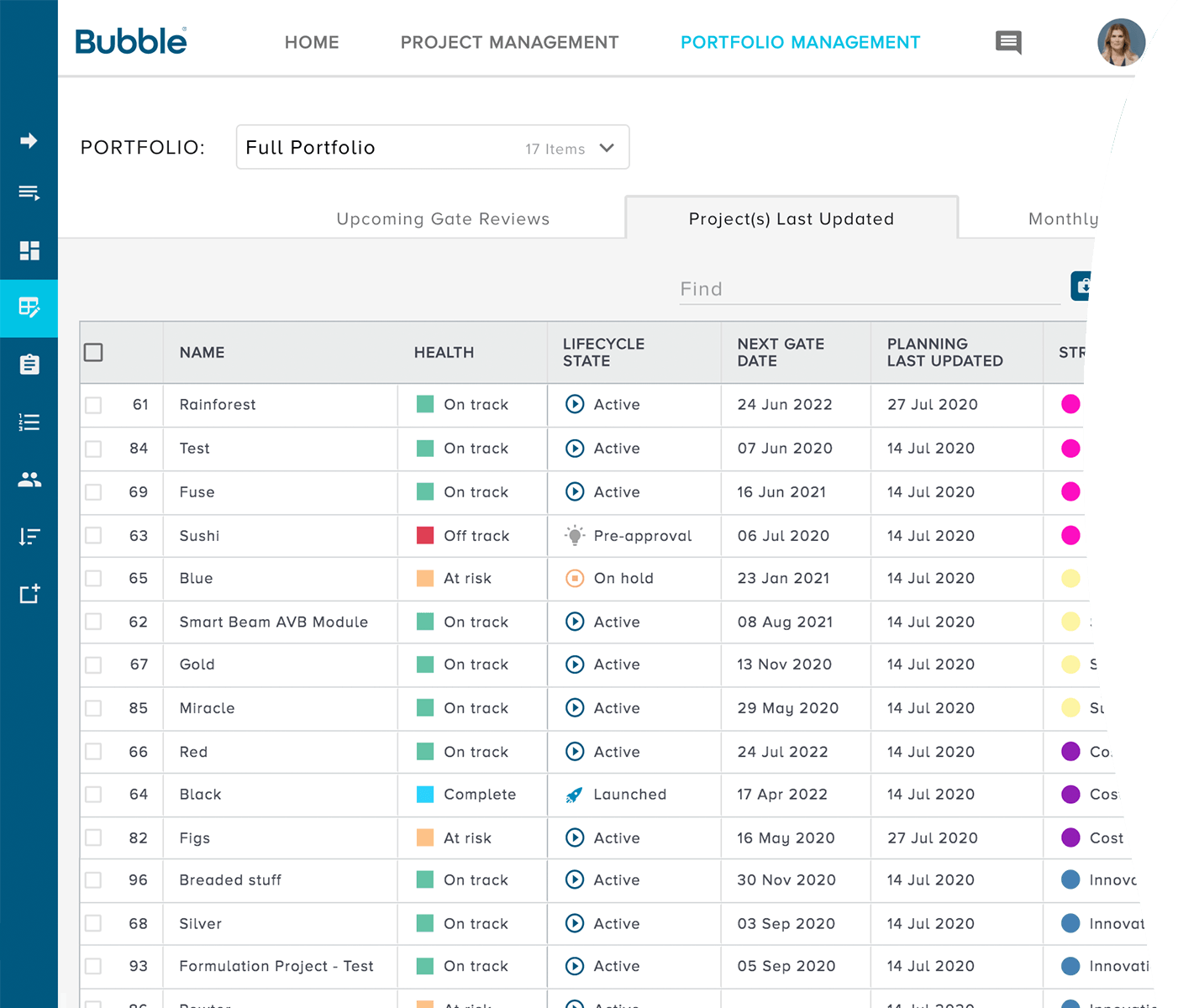 Track financial commitments and outcomes by portfolio
Bubble PPM makes it easy to roll up financials and other metrics to the portfolio level for monitoring, manageing, and reporting. compare different Project types on equal terms. Track budgets, expense, revenues, and other metrics for fixed, hypothetical, or ad-hoc portfolios.
Forecast data over the full project lifecycle, by year or by individual project stages using calculated row and column metrics.
Track portfolio budgets or total annual budgets, or snapshot current data against baseline targets for specific projects.
Financial data can be download for futher analysis and easily amended changed and re-uploaded to reflect latest estimates.
When internal reporting mechanisms are well developed and in place, Bubble PPM can be set up to support API calls for extracting data from 3rd party platforms using REST API calls.
Benefits:
Quantitative Portfolio Management
Portfolio Management is better with Bubble®
See how Bubble PPM can transform your organization…
Whether you deliver the top-level strategy, or the projects that drive success
Bubble®PPM software is designed to make your job easier!