Dramatically improve your productivity
Bubble PPM™ brings productivity and efficiency gains to project managers, irrespective of their projects location, complexity or moving parts.  A multi-user, collaboration and decision tool, it's designed to work as well from the bottom-up as it does from the top-down.
With a visual, easy-to-use, and configurable dashboard approach to project management, it helps project managers to connect strategy to goals, budgets to work, resources to programs and projects to delivery!
Click on the icons below or scroll down to learn more:
Start to end program management
Every program can be linked to strategic goals and technical uncertainties, ensuring critical prioritization, development and delivery dependencies are up-to-date at all times.
Focussed on outcomes, and not just outputs, Bubble PPM™ includes the following program management capabilities as standard:
+ Single source-of-truth Portfolio dashboards  
+ Powerful Project and Resource planning tools
+ Configurable and easy to use Project Templates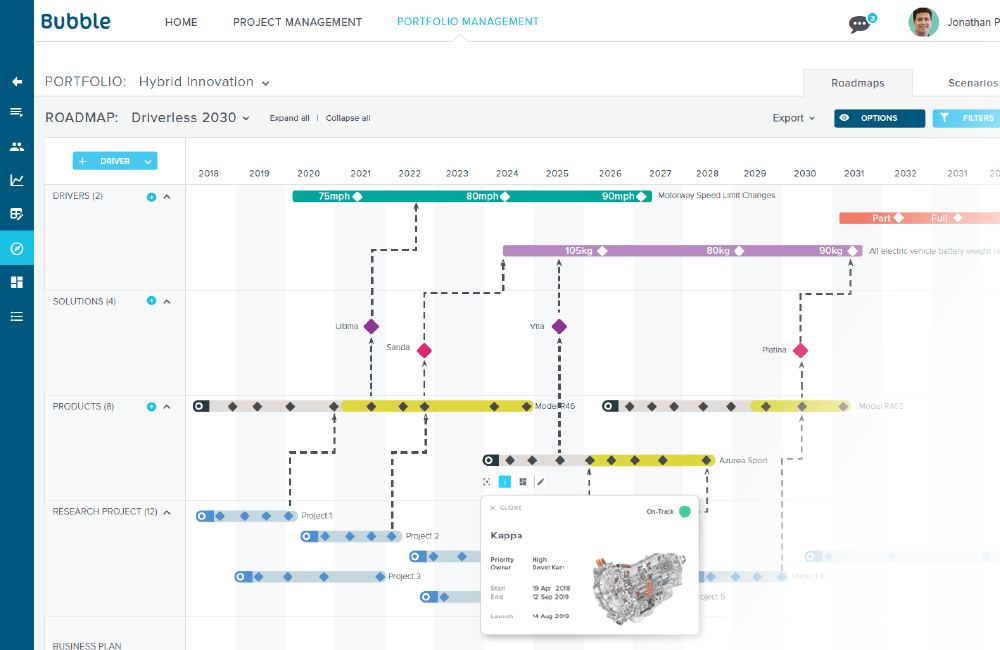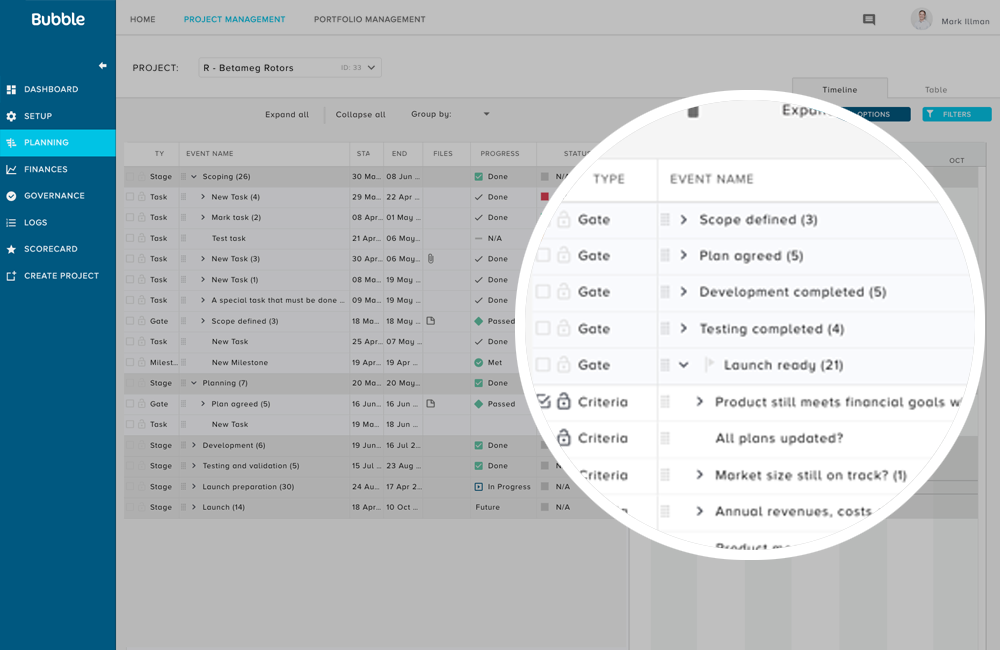 Controlled project & process management
For project teams, Bubble PPM™ provides a common understanding of priorities, prepares the ground for gate, or other review, meetings and streamlines the reporting burden for day-to-day project delivery.
Comprehensive dashboards provide users with an always up-to-date view of project/portfolio, financial, resource and capacity planning status.
+ Advanced live analytics
+ Work-flow support tools and actions checklists
+ Automated / 1-click project reporting tools
Configurable project templates
Project delivery teams have accountability for delivering growth goals within a set of known organizational constraints.
Bubble PPM's configurable project templates are built on proven best practices, meaning project administration takes a rightful back seat to project delivery. Allowing you to run:
+ A common, but flexible, processes for all  
+ Multiple project types / lifecycles at the same time  
+ Live outputs from the software in high-level meetings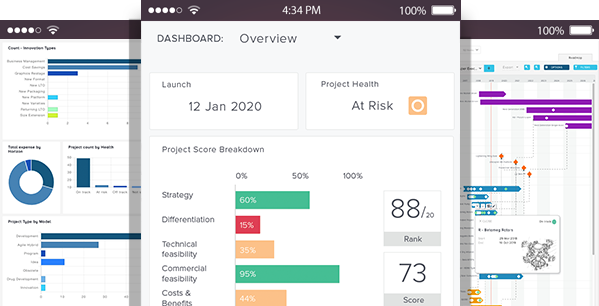 Key benefits for teams
Bubble PPM™ has been designed to provide seamless, always up-to-date management and reporting capabilities to project delivery teams.
Combined with its powerful Portfolio Management capabilities, our system ensures that the right people have the correct information, at the right time, in the format they want it in.
+ Guarantees a robust process
+ Easy alignment to Strategy/Roadmaps
+ Reduces errors, inconsistencies and meetings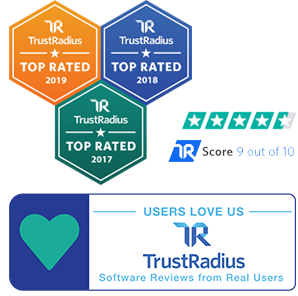 What other teams say about Bubble PPM™ 
"The learning curve was non-existent; it's totally intuitive and easy to use."
"The days of spending weeks preparing slides for project reviews are gone – I now have a live project dashboard that provides me information, rather than the other way around."
"Mundane reporting tasks are now completed with one click, and my team can focus on their real job: Innovation."
"Gate reviews are now a support tool rather than an ordeal."
"My team is now genuinely following best practice, and it makes a difference."
Whether you deliver the top-level strategy, or the projects that drive success
Bubble®PPM software is designed to make your job easier!