Our strategic planning tools provide a single source-of-truth for your entire projects portfolio
See and set the direction of travel by defining requirements, assessing priorities, and optimizing investments, to achieve growth
Transform the way you make decisions and how the organization delivers on your targets
Here's how to deliver your strategy with confidence…
Get the enterprise view of your strategy in action
See the status of your entire projects portfolio in real-time to inform the strategic planning process, identify trends during portfolio reviews, and adapt your strategic focus.
Set portfolio and organizational priorities in one place
Rank and score projects in terms of importance to the portfolio, the organization as a whole, or your innovation, product, technology, and other strategies.
Create 'What-if' scenarios of alternate portfolios
Consider alternative strategies based on a different set of projects that better leverage core strengths, changing markets, or technical competencies.
Balance risks and opportunities
An optimal portfolio is not just a collection of your best projects. It's about doing the right projects at the right time by selecting and managing projects as a portfolio of investments.
Plan your portfolio investment strategy
Portfolio level financial planning tools help you to align your investments with overall strategy, then resource major initiatives and assign high level budgets to projects, programs and portfolios.
Communicate your vision across the organization
Use product and technology roadmaps, strategic maps, bubble and other charts to illustrate the strategy, communicate your goals, and track progress.
Explore how our strategic planning tools can help improve top-level visibility and control
See the full future value of your portfolio at any time
Overcome the challenge of managing numerous projects by consolidating all project and portfolio data in one place, in real-time.
Set the parameters for expected success to bucket investments, track KPIs, or monitor resource allocations, across portfolios.
Roadmapping tools keep projects connected to key drivers and strategic objectives and help negate the impact of disruptive shifts in technologies or markets.
Conduct periodic portfolio reviews to instantly project the impact of decisions and understand where there's available capacity or gaps to be filled.
Benefits:
| | | |
| --- | --- | --- |
| Strategic analysis tools | Strategic goals tools | Strategy vs plan tools |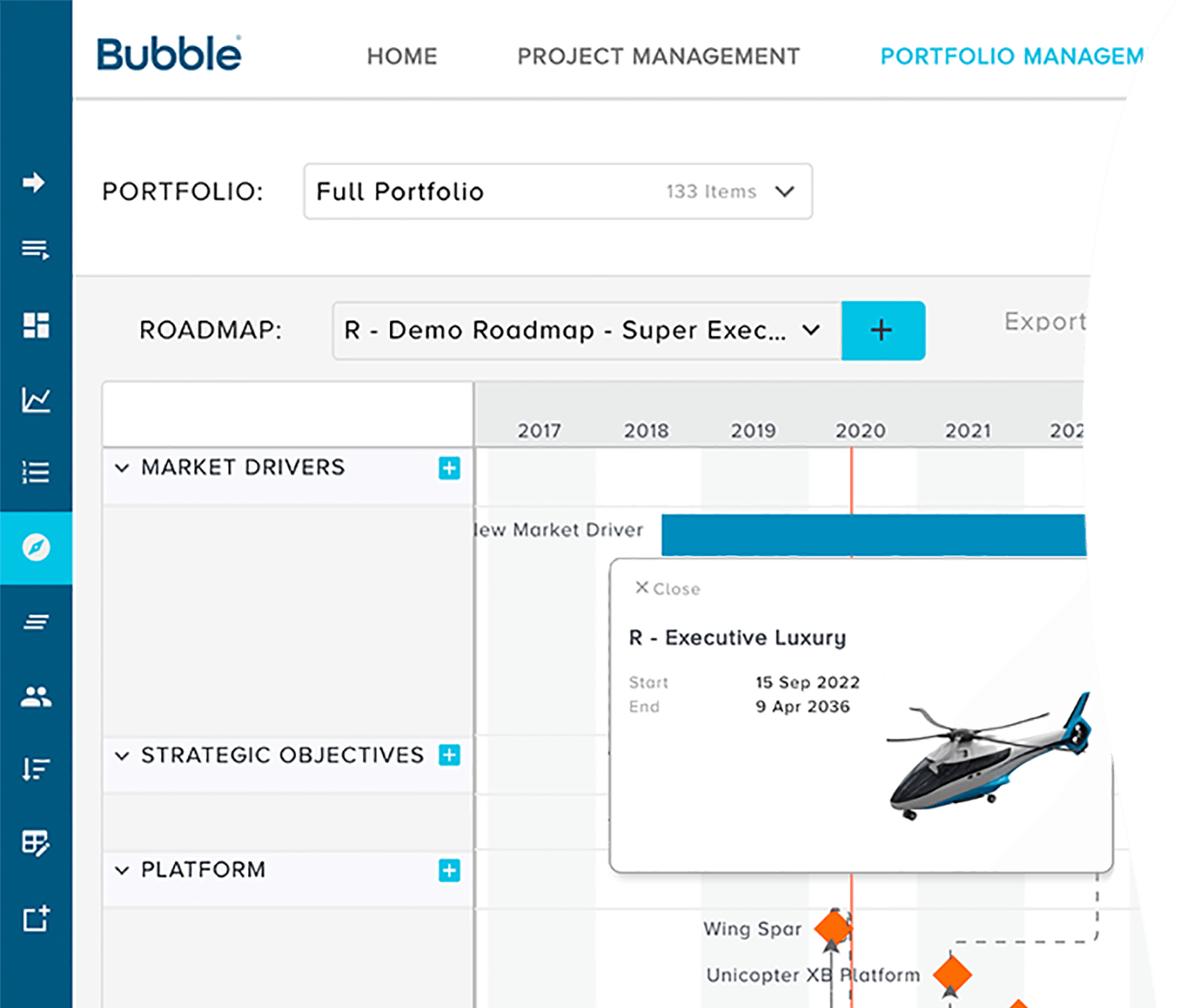 Make all decisions fact-based decisions
Bubble PPM takes gut instinct out of the strategic planning process. Fact-based decisions become your default route to improved project selections and portfolio growth through the ability to slice, dice, and report upon, any element of your data.
Configurable Portfolio dashboards enable you see and track investments at a glance, helping you identify what's on track, what's behind schedule.
Current and hypothetical portfolios can be considered by exploring scenarios, with the impact of selections shown in real-time.
Prioritization tools help you promote projects and portfolios up the organizational to-do list as you rank and prioritize (or re-prioritize) projects according to organizationally defined metrics or requirements.
Benefits:
| | |
| --- | --- |
| Corporate strategy dashboards | Strategic planning process prioritization tools |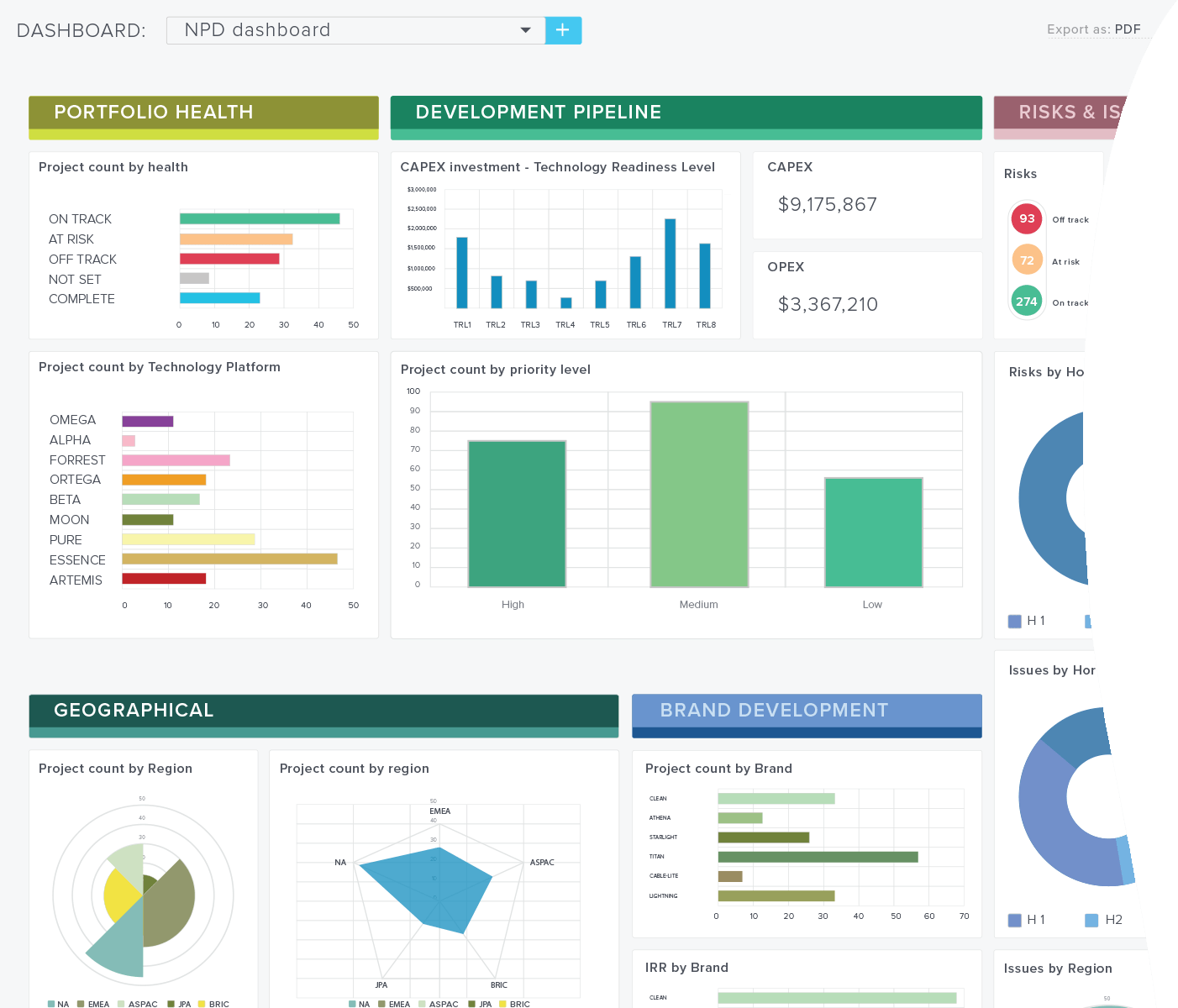 Balance your project portfolio
Making tough decisions? Roadmapping tools bring clear strategic shape to your portfolio and ensure a mix of projects to address short and long-term needs.
List and timeline views show a personalized picture of key metrics and milestones, for any portfolio, in a single prioritized view.
Use visual charts to identify benefits early or consider factors such as ease vs attractiveness, revenue goals vs spend, risks vs rewards, return vs profitability etc.
Stop failing projects sooner! Use Key reports, Portfolio updates, and Risk registers, to see pinpoint accurate challenges in real-time. Filter and share your data quickly with detailed, or single-click, reports.
Benefits:
| | | |
| --- | --- | --- |
| Build your portfolio strategies | Shape your project strategy | Create strategic alignment |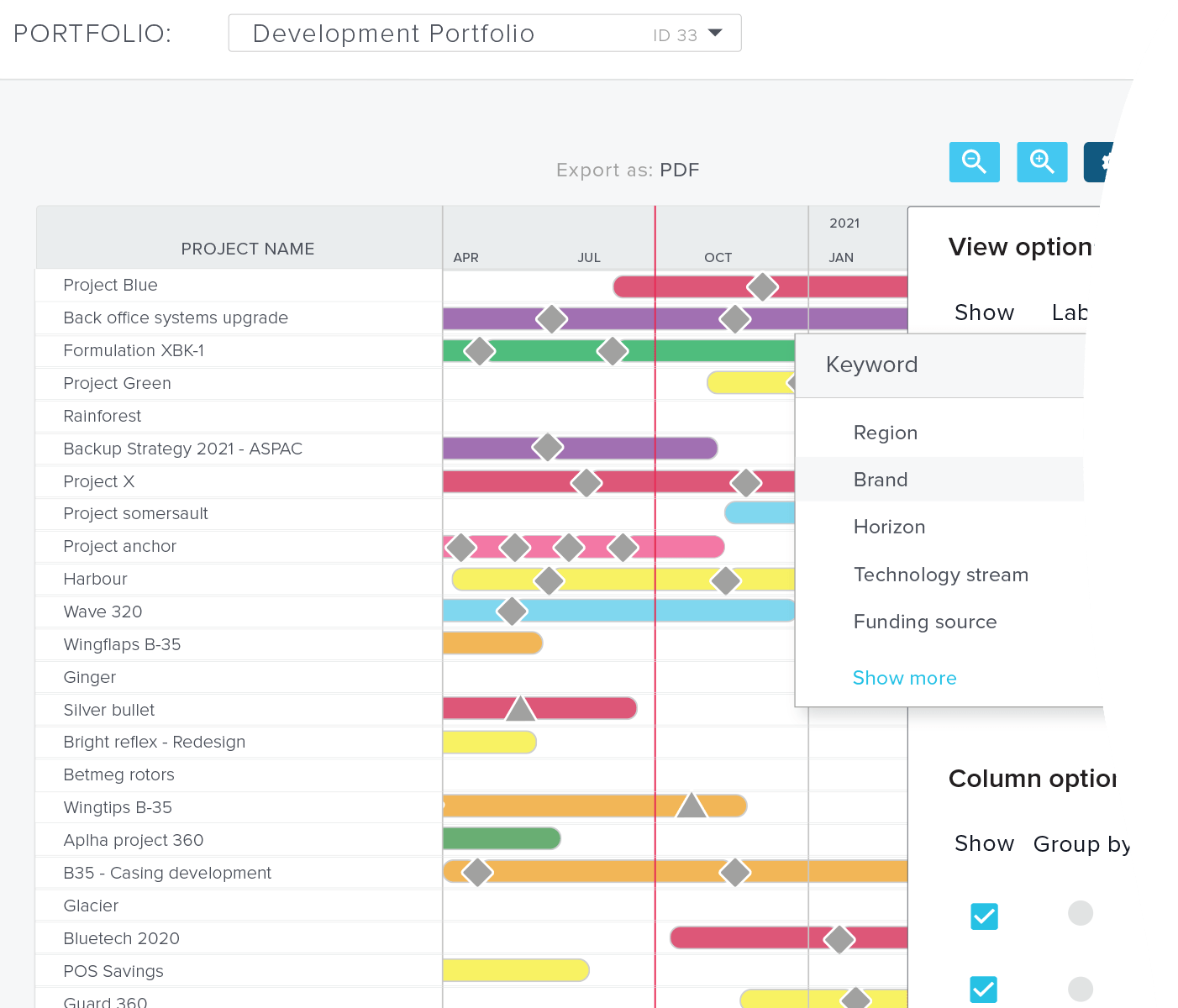 Minimize conflicting priorities
Bubble PPM is designed to deliver a new sense of organizational cohesion and improve quality across the board.
Deliver more successful project outcomes, and achieve more with less, by optimizing available resources and aligning your stakeholders and outputs to a common strategic purpose.
Granular permission profiles provide as much clarity on the strategic direction as you wish to share, and inbuilt collaboration tools foster improved communications across functions, teams, or silos.
Powerful resource utilization tools make it clear where project trade-offs are required, or additional capacity considered.
Benefits:
| | | |
| --- | --- | --- |
| Tools for sharing the business strategy | Ensure strategic alignement | Meet strategic objectives |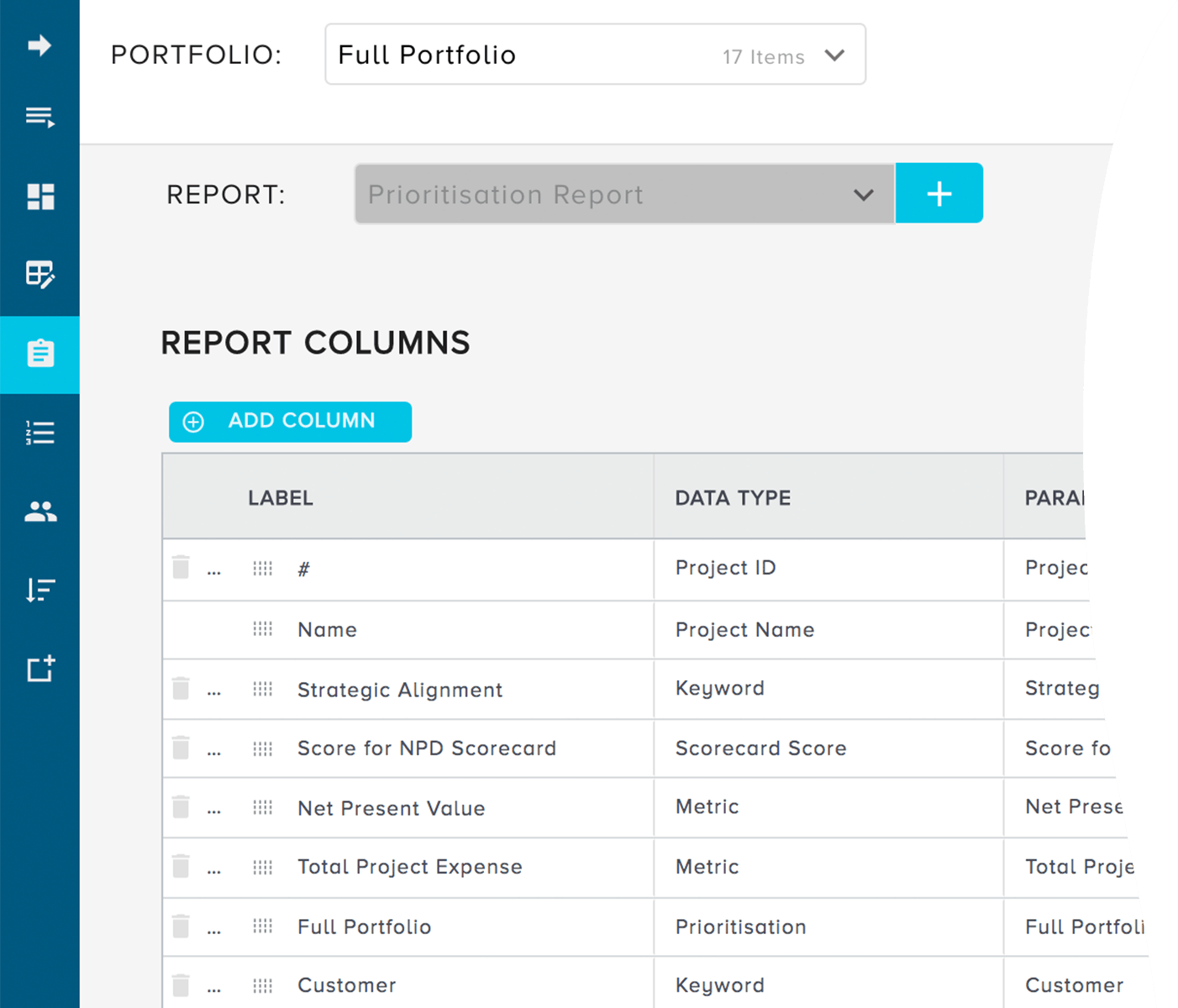 Strategic planning is better with Bubble®
See how Bubble PPM can transform your organization…
Whether you deliver the top-level strategy, or the projects that drive success
Bubble®PPM software is designed to make your job easier!