Our project management tools ensure you keep an eye on the big picture as well as the detail
Identify what's required to move projects forward, what the blockers are, and what not to worry about anymore
Ensure all priorities are clear and that outcomes can be recorded and shared with ease
Here's how we can save you an average of 1 day per week…
See all projects in one place
Easily keep an eye on the projects you're responsible for and the work that needs to be done on them.
Know all of your priorities
Personalized task lists help you to see and sort tasks according to the projects, departments, or portfolios you work with.
Stay up-to-date in real-time
Our visual, easy-to-use, and configurable dashboard approach to project management tools, makes it easy to collaborate with colleagues (wherever they are in the world).
Focus on what's 'still to be done'
Bubble PPM has a range of Project Management Tools for tracking the progress and status of all project requirements well before key meetings or milestones occur.
Stay on track to deliver on time and on budget
Dramatically reduce project costs and delays by flagging risks, issues, and bottlenecks, in advance of them becoming a problem.
Easily report on actions and achievements
Automated and streamlined reporting tools help you to report on projects with little to no effort. Ensure you spend your time working on projects, not reporting on them!
A complete set of project management tools
for efficient and reliable delivery 
Create new projects in a few clicks
Creating a project plan is easy. Start with pre-defined project templates, or use an existing project as your source.
Your newly created project includes an editable plan with automatically generated stages, gates, tasks, and milestones. You can add, refine, or upload data to entries in just a few clicks.
Build an initial project justification by scoring your project and applying weighted scenarios.
Upload your existing business case or project financials directly into the system to track budgets and expected benefits.
Pre-configured team, dashboard and reporting tools help you to track status, see progress, and easily report outcomes up the portfolio level.
Benefits:
| | | |
| --- | --- | --- |
| Planning tools | Project templates | Scorecard tools |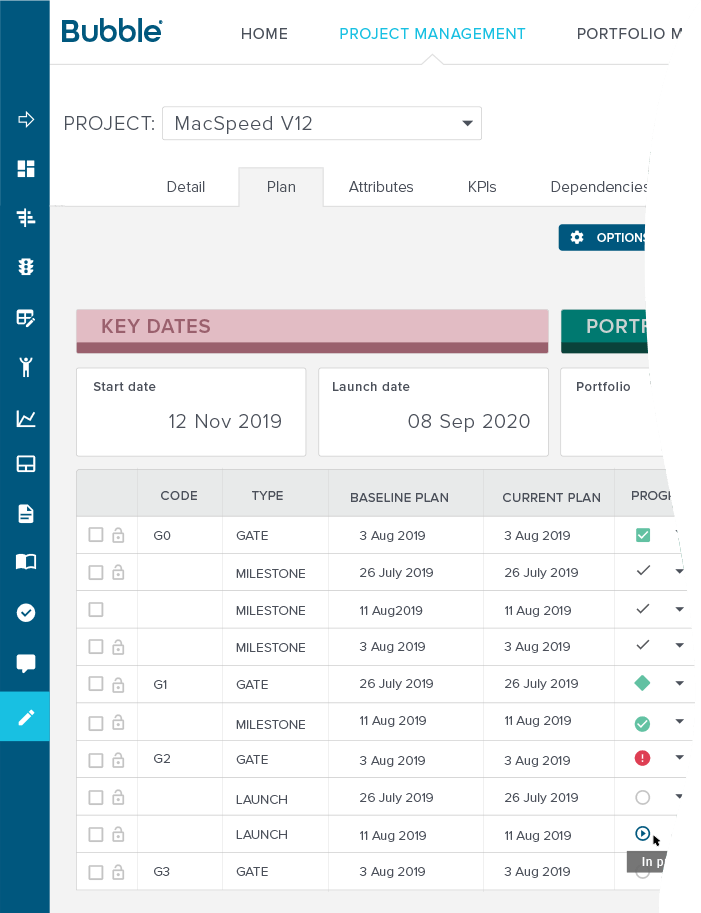 Create unlimited project process templates to cover all your project types
Our software is designed to reflect the way your organization already works.
Any number of project management processes can be added to the system and automated, meaning it's easy to accommodate all of your projects and all of your project types (e.g. New Product Development (NPD), Innovation, Reserach, IT, Project Management Office (PMO) projects). For specific project management methodologies, see below:
- Phase-Gate Project Management tools
- Prince 2 Project Management tools
- Agile Project Management tools (coming soon)
If you're still formalizing your project management approach, no problem. Bubble has 20+ years of best-practice insights, templates, and experiences to share.
Benefits:
| | | | |
| --- | --- | --- | --- |
| Automate process | Gantt charts | Task management | Governance tools |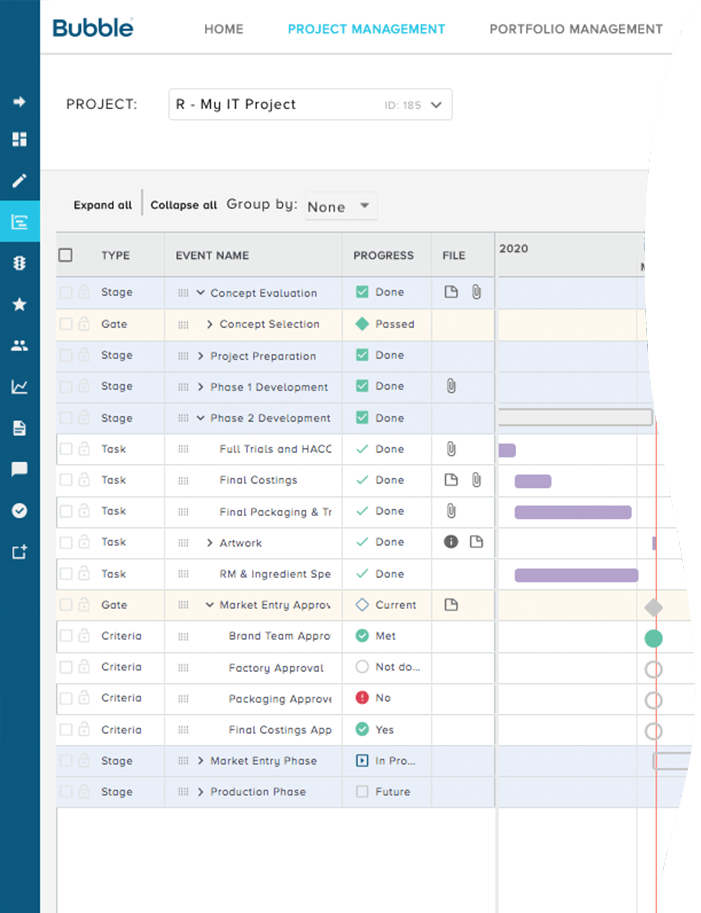 Ensure all project deliverables and milestones get met
Bubble Software is designed to outperform manual alternatives in every way.
Visual workflow management tools make it easy to keep projects on-track and identify threats before they're a problem.
Click, drag, and drop your way to beautiful project dashboards that keep project participants informed. Dashboards can be shared as a PDF report with a single click.
At a detailed level, tasks can be grouped by urgency, workstream, and other variables.
Manage task dependencies and get alerts when new tasks are available to be worked on.
Status and progress is evident through visual delivery indicators.
We also make it easy to communicate with colleagues via in-built message boards, configurable digests, and project update notifications.
Benefits:
| | | | |
| --- | --- | --- | --- |
| Collaboration tools | Project dashboards | Task lists | Tracking tools |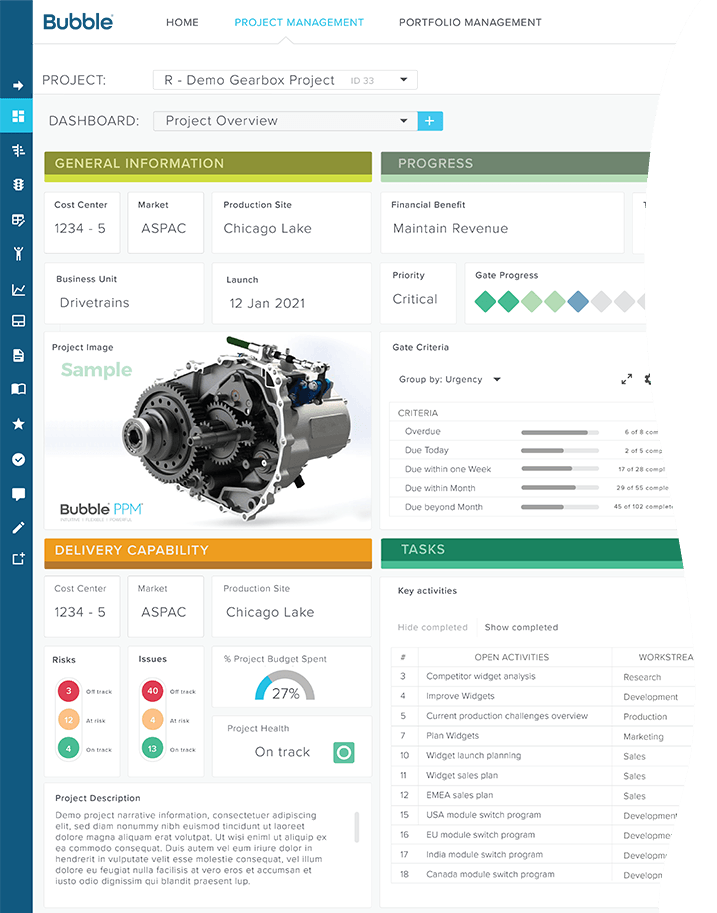 Keep projects on-track by monitoring budgets, risks, issues, and accomplishments 
Project health and Risk & Issue management is an integral part of the system.
Users can flag bottlenecks, share accomplishments, and log lessons for the future.
Risks and statuses are easy to update and data can be filtered or clustered by type, snapshotted by date, and tracked over time.
It can also be exported, rolled-up to the portfolio, or added to dashboards as KPIs.
Ownership responsibilities, due dates, and mitigation actions are clear.
Where accompanying detail or evidence is required, it's easy to upload documentation, add further comments, or share links to other resources.
Benefits:
| | | |
| --- | --- | --- |
| Document library | Progress & status project trackers | Project risk management |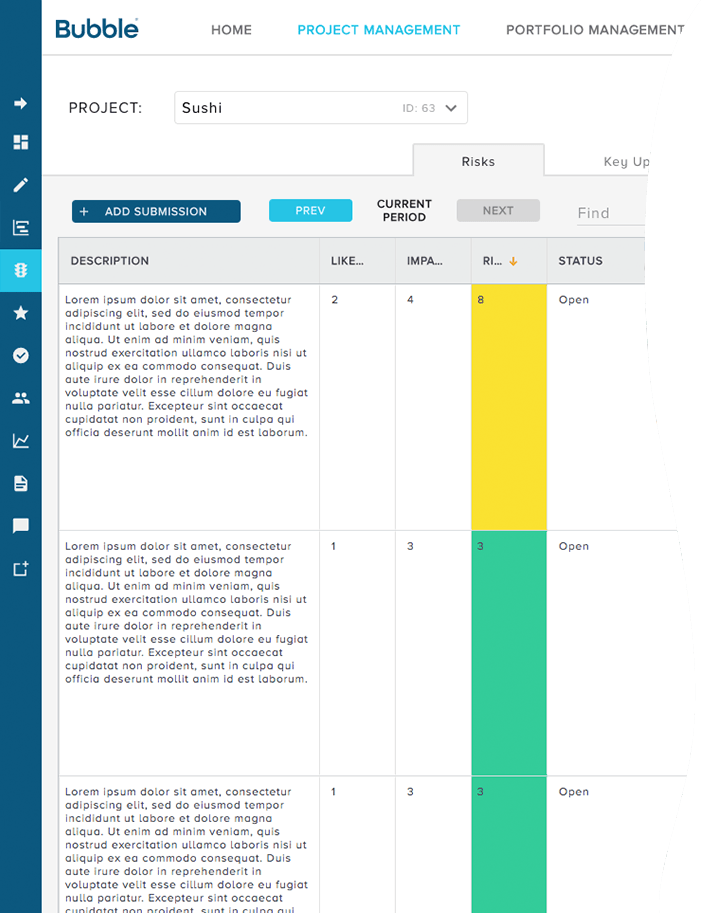 Display project detail and report outputs with a single click
Real-time metrics and automated project reporting saves users an average of one day per week.
Editable tiles within a dashboard can display and report project status indicators, tabulated data, and summary overviews. They can also include information like metric ratios, KPIs, and calculated metrics.
If you have multiple projects to manage, our easy-to-use reporting module makes it possible to quickly share summaries for any number of selected projects.
Automation tools can also facilitate the generation of reports that need to be created or distributed at fixed intervals.
And because all the latest information is always live and always available, your teams are much less likely to receive reporting requests from senior management. They can obtain a presentation-ready report any time without adding to the workload of your team.
Benefits:
| | |
| --- | --- |
| Project management metrics | Project management reporting tools |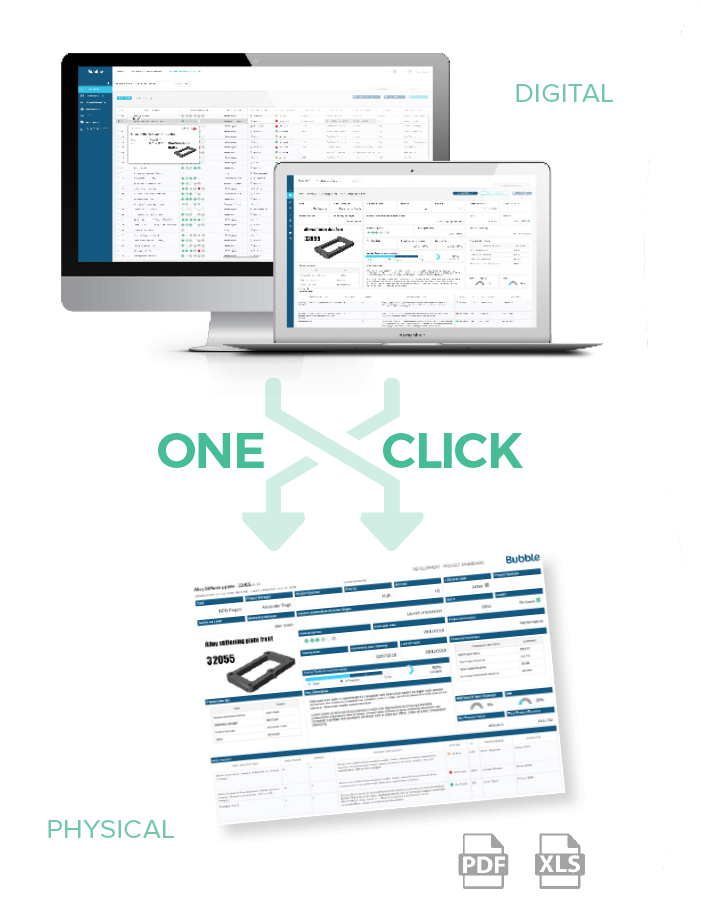 Project Management is better with Bubble®
Explore how Bubble PPM can transform your organization…
Whether you deliver the top-level strategy, or the projects that drive success
Bubble®PPM software is designed to make your job easier!