Our resource management tools help to deliver projects faster, making the best use of resources
Get a genuine balance between resource requirements and capacity, so you only undertake the projects you know you can deliver
Ensure you have the capacity to deliver every project you undertake
Ensure appropriate resource utilization at all times
See precisely who is working on what
Resource and department managers can easily see the relative workload on each individual.
Anticipate and address resource and bottlenecks in advance
Resource bottlenecks reduce flow, increase work in progress, and add stress to staff. Clarity of resource requirements vs capacity facilitates early action so these can be avoided.
Know where the pressure points are
Set the capacity for staff and easily see the relative workload of each individual before assigning work or adding them to projects.
Re-assign people when circumstances change
Move people between projects in order to balance workloads and ensure projects have the resources they need.
Align delivery priorities across your organization
Clear project prioritization ensures that all areas have a shared view of where to focus their efforts, resulting in greater throughput, less work in progress, and faster delivery.
Understand future resource requirements
Capacity planning tools ensure departmental heads can take recruitment, training, or resourcing actions now to meet future needs.
Make current, planned, and future, requirements both visible and predictable
Plan your Requirements
Use rough cut requirements planning to quickly create an initial resource plan for each project.
Define which departments or functions should be included in resource planning, and use historical experience to estimate resource requirements for each type of project.
Capture estimates in standard templates so that project resource requirements can be planned with minimal effort.
Define resource requirements by month or by stage.
Set resource requirements individually, by projects/person, or set according to higher level needs at by portfolio/department etc.
Benefits:
Resource requirements planning tools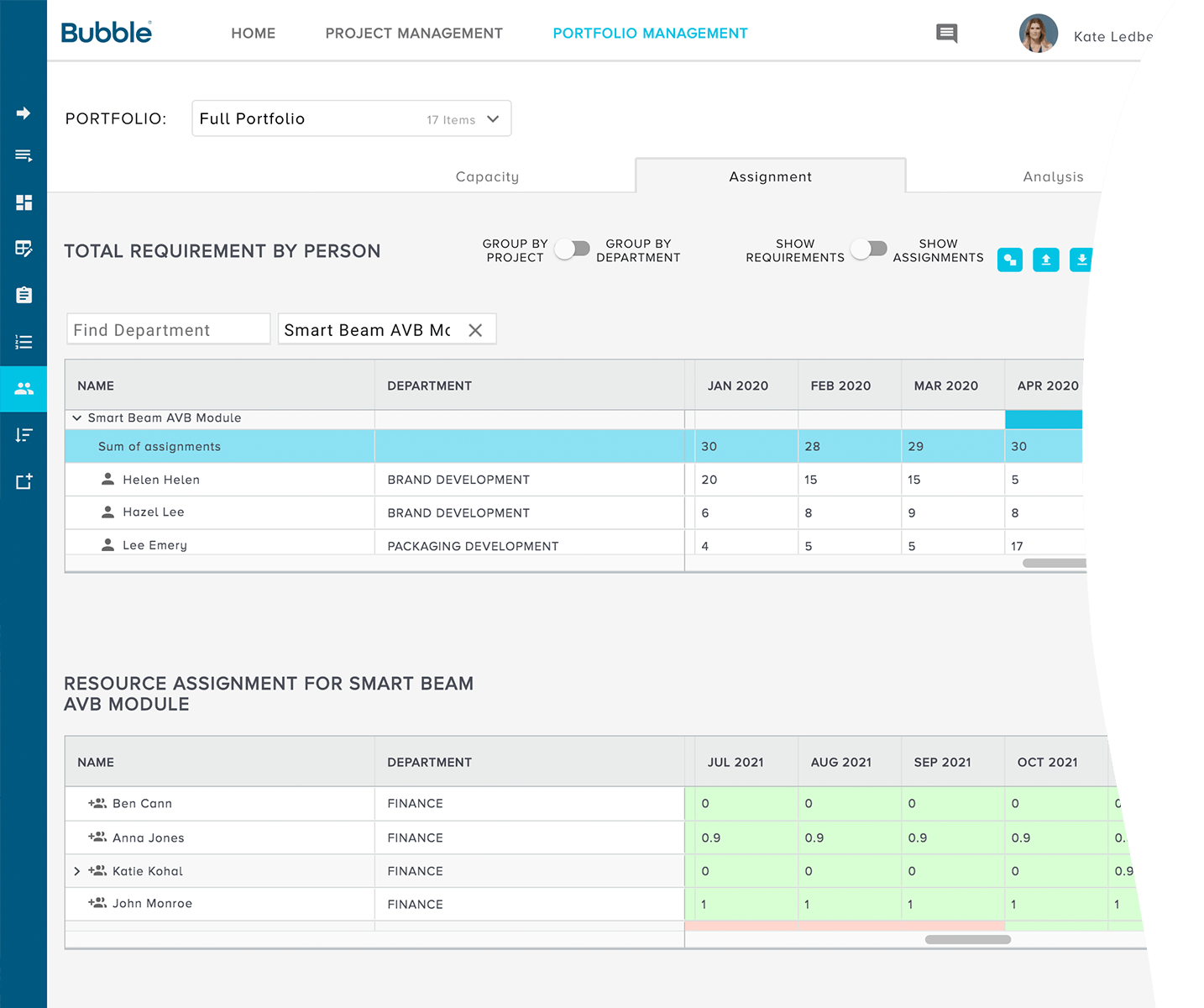 Anticipate bottlenecks
Bubble PPM Software is designed to outperform manual alternatives in every way.
Helping you understand historical, current, and future resource requirements while also inform training and recruitment.
Refine analysis of your data set by skill, department, project etc
Use historical resource requirements to easily model the future needs of the project pipeline.
See the capacity of any person, the projects they're on, the time on a given project, and their remaining capacity.
Leverage graphical analysis tools to clearly highlight where future needs cannot be met with existing resources.
External contractors etc, can be added to build capacity when needed.
Benefits:
Resource requirement Vs capacity tools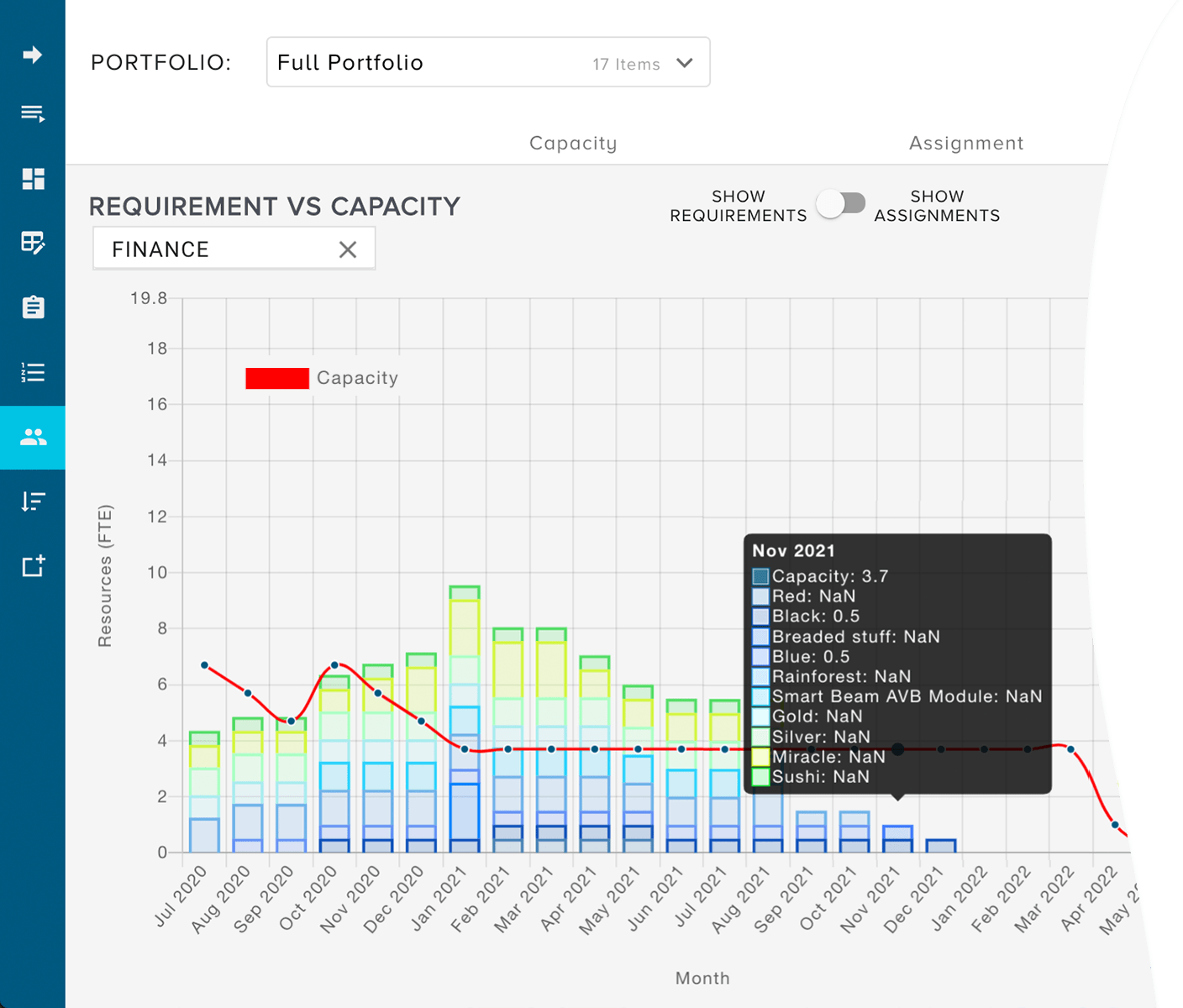 Assign people to projects
Bubble PPM maintains a shared view of relative priorities, helping you ensure priority projects get resourced first.
Project leaders can easily add resource to project requirements.
Department managers can see every project that their team needs to support, who has been assigned to each project, and for how long.
Resource leaders can view and maintain the delivery capacity for each person, team, and department - across the entire organization.
Requirements and assignments can be viewed together or switched to a project only view.
Large data sets and new resource can be uploaded when necessary or downloaded for analysis.
Benefits:
Resource prioritization tools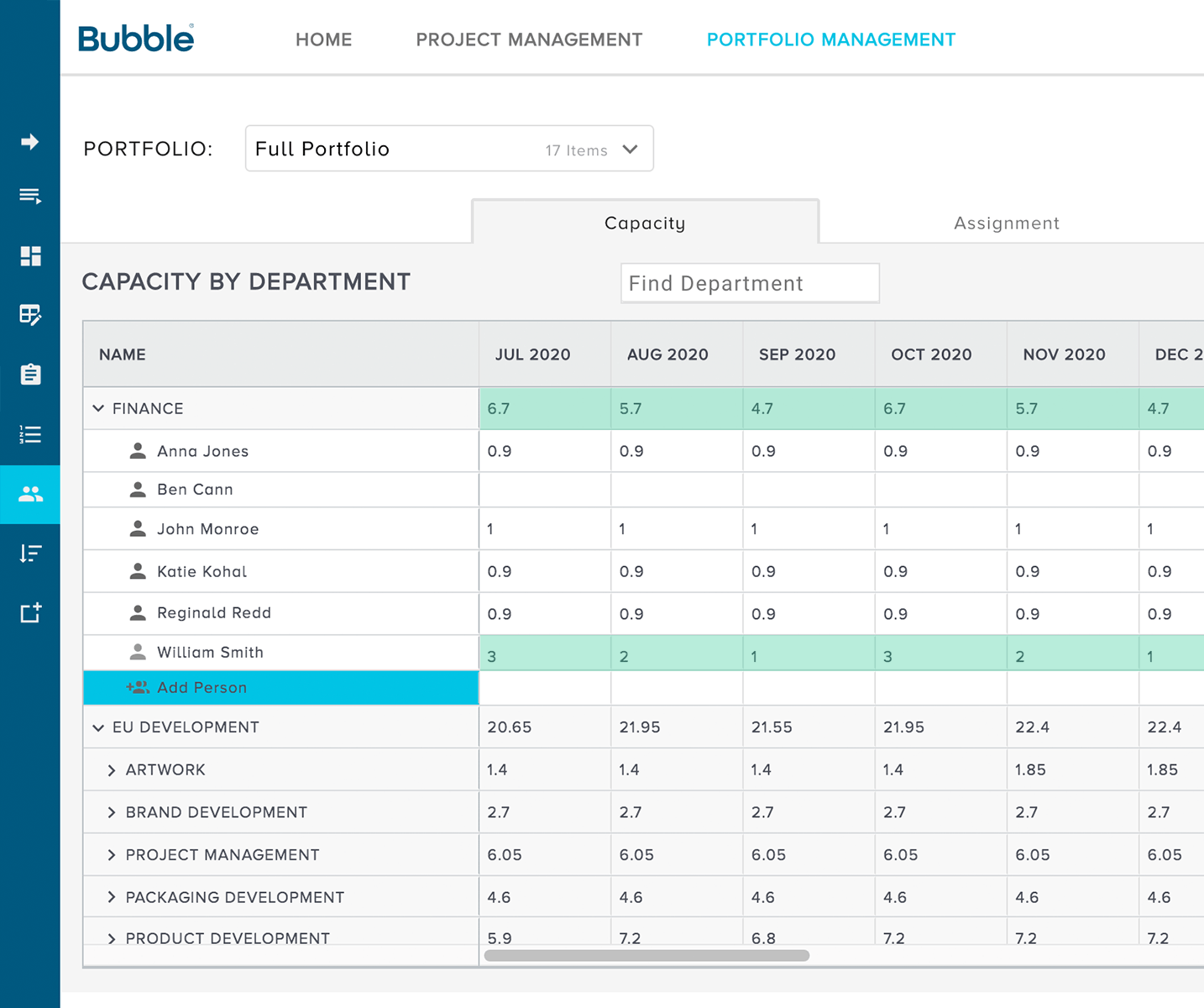 Review each person's workload
Get organization wide, department, team, or person views, of resource allocation and total capacity.
Assign time to projects by hours, days, percentage, etc.
View assigned and required resources together or separately.
Bring up assignment summaries to see precisely who's working on what, where the pressure points are, when there's a risk of becoming overloaded.
See where resource gaps could be filled by assigning underutilized capacity from elsewhere.
Support long-term business planning with automatic charts that graphically flag where your total available resources are overtaken by the number of projects required.
Benefits: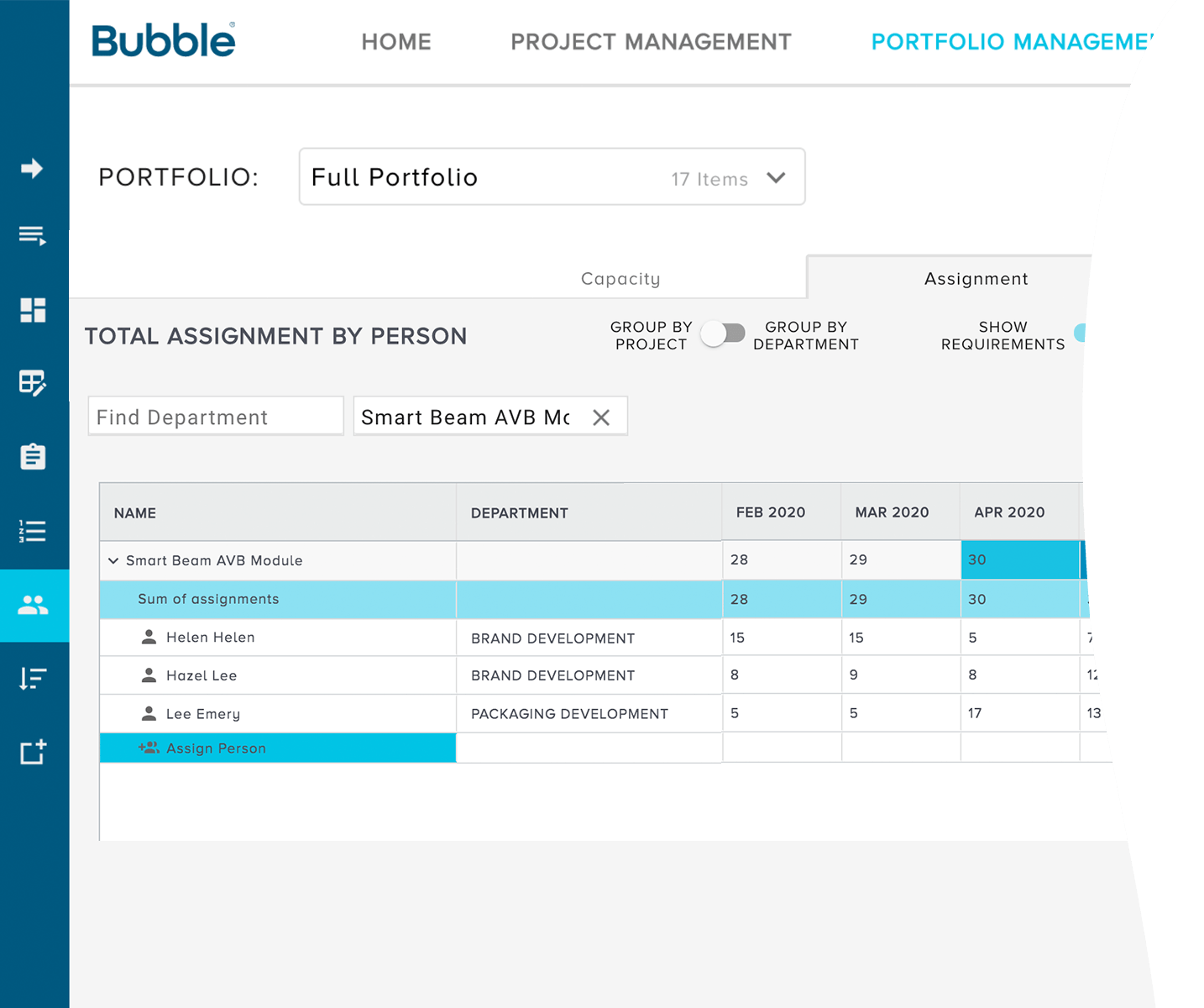 Resource Management is better with Bubble®
See for yourself how Bubble PPM can transform your organization…
Whether you deliver the top-level strategy, or the projects that drive success
Bubble®PPM software is designed to make your job easier!