How to Align Project Portfolios After M&A
Real world advice on how to align project portfolios and innovation pipelines after corporate mergers. A Medical Device Case Study
Mergers and Acquisitions in the Medical Device sector, in particular the resultant effect that M&A activity has on Project Portfolios, was one of the noteworthy strands being discussed at the recent Medical Device Project & Portfolio Management conference in Minneapolis, titled: 'How to Align Corporate Strategies to Achieve Business Goals and Increase ROI'. It was clear that many of the companies represented are in the midst of reorganizations after large mergers, but that the impact of M&A on NPD pipeline momentum and productivity is an issue that's seldom covered. With that in mind, here are some thoughts, reflections, and insights on prioritizing resource allocation across legacy project portfolios (based on both our experience and discussions with some of the 50+ senior executives in attendance).
What effect does M&A have on how you align project portfolios?
With slower growth in core markets, intense competition and pricing pressures all contributing to squeezed margins, it's not surprising that delegates had a special interest in the topic. After all, M&A offers a great way for device producers to capture cost synergies, expand into new territories and access complimentary markets. The mega-mergers, like Medtronic's acquisition of Covidien and Zimmer's acquisition of Biomet, may not be as common as they were in 2014 and 2015, but there seems little doubt that M&A in Europe will continue to be influenced by the competitive US sector (which in 2016 equates to roughly 38% of the global device market).

I've read several interesting posts by others on the subject of acquisition trends in recent months. A good quick read being Financier Worldwide Magazine's review of M&A Momentum in the Sector (see HERE for details). But the focus in these articles is on the topic at a strategy, rather than project, level. There's far less attention paid to the implications for R&D project execution that come about when device portfolios, of different companies, come together as one. In our experience corporate mergers can't help but create instability and disruption at the departmental level. The natural cost saving sought through streamlining resources means that folks are, at least partially, focussed on their own role within the joint organization rather than 'the day job'. Handled badly, the process can take months or even years to play-out and can have a dramatic negative effect on the momentum and productivity of the innovation pipeline. Handled well, processes can be harmonized. Leaving space, and time, to focus on the progression of opportunities.
Adapting to Merger and Acquisition Activity in a Medical Device Manufacturing company.
We've been assisting Medical Product Manufacturers to create value in their device portfolios for a number of years, and through that experience have developed a good understanding of the changes, challenges and opportunities that organizations face.
Keen sector followers will have read how DePuy Synthes (the Medical Device business of parent organization Johnson & Johnson) has overcome seemingly lackluster growth in the Orthopedics sector. After acquiring rival Synthes (in 2011) the process of harmonizing two similar, yet culturally different, medtech organizations began. In their May 2016 Investor call, J&J revealed publicly that their 'One R&D' vision had successfully unified 16 Business Units, 15 Management boards and a non-integrated supply chain into one combined and harmonized New Product Development (NPD) process. Furthermore, the change is delivering results! With a pipeline of "35 product launches or extensions by 2017 and another 35 in 2018 and future years" the business is, according to analysts, well positioned to accelerate its device business growth beyond the company's target 5% Compound Annual Growth Rate (CAGR) for 2015-2020 revenues. You can read more about the analysts' views on J&J's buoyant prospects HERE.
I mention Depuy Sythes in particular because our Bubble Innovator™ PPM enterprise software was central to delivering the Project Portfolio Management element of the One R&D Vision, and provided the perfect platform to quickly rollout and embed the harmonized innovation processes, align priorities, and allocate resources. However, this piece is not a promotional article outlining Bubble's capabilities. You can visit the rest of the site for that. Similarly, client confidentiality prevents me from revealing anything other than public domain information about J&J's activities. But there are generic lessons that can be shared from this and similar engagements.
As soon as the ink on a deal is dry on any merger or acquisition, you can be sure that senior management will be looking to cost efficiency savings as a priority task. But there is some evidence that R&D and Innovation activities in medical device businesses are more insulated from disruption than M&A in other sectors.
Strategic Priorities for Medtech companies.
A recent KPMG report indicated that 49% of Medical Device Companies cited Development of new Products as the 2nd highest strategic priority for MedTech companies (after Sales Growth and proceeding a Reduction in Cost Structures). So, while practitioners may not be able to influence the strategic direction of the merging businesses, there's reassurance that Medical Device companies are far more likely to strategically prioritize R&D and New Product Development (NPD) projects than other manufacturing sectors. You may be facing the pain of day-to-day re-prioritization of tasks or even cancelled projects, but in this sector at least, the newly merged leadership will likely have a greater interest in 'protecting the best and improving the rest' than cutting costs back to the bone. Not all sectors work this way!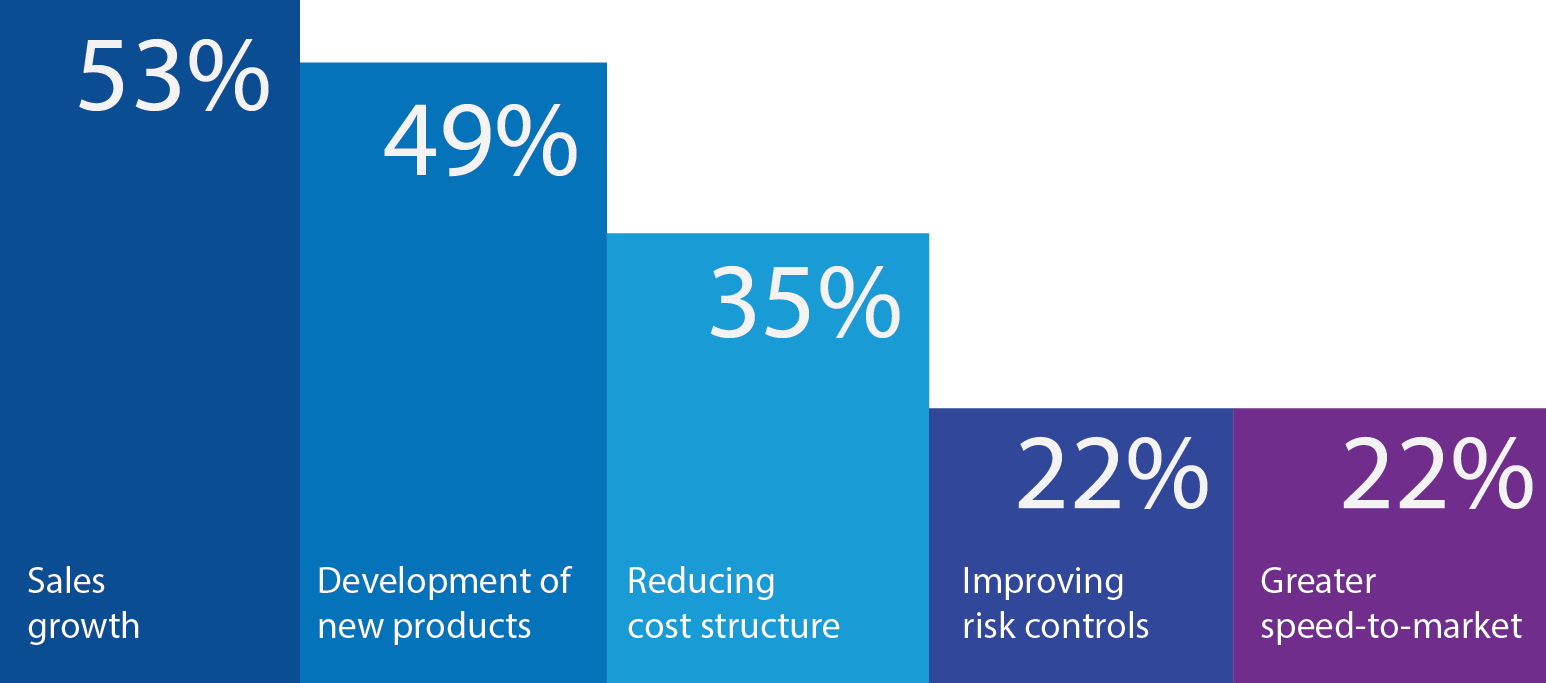 Fig. 1: Developing new products ranks higher than reducing costs in MedTech development. Source: Collaboration – The Future of Innovation for the Medical Device Industry (KPMG / Forbes October 2015).
Managing integration to optimize performance of NPD pipelines.
Most product developers and MedTech companies use some form of gated development process to manage their projects. With a strong focus on process governance and risk management, it's both suited to complex development and regulated environments.
We've certainly seen many companies who use the traditional Stage and Gate product development methodology, but there are almost as many variations as there are companies when it comes to Innovation decision making and investment strategies. Almost all incorporate early gates aimed at identifying which projects will contribute the greatest value to the portfolio and strategic goals of the company and later gates that provide repeatable, reliable, on-time execution. This is 'old news' of course, but in our view, phased / gated review processes do still provide the best place to begin the portfolio harmonization process.
Aligning the New Product Development Methodologies of two different companies.
Two NPD processes will never be exactly the same in make up, but both organizations will have some form of regular, independent, and objective assessment of their projects. Even if they're not aligned in timing or definition, starting here give you the opportunity to start to align terminology, quality expectations and milestone deliverables. It also allows the joint organization to start considering market opportunity vs. project risk on the same terms.
There will be overlaps in roles, strategy, projects, and process to sort out, with each of these being worthy of a book or two in their own right, but from a Portfolio Management perspective, it is resource allocation that should be front and centre.
Setting Your Portfolio Prioritization and Resource Allocation Goals
At its simplest (and perhaps purest) level, Portfolio Management is about defining a product development roadmap that will deliver the desired growth goals, and then ensuring that the resources are in place to enable its delivery. To do it well you need to have clear strategic goals, and then design a product development pipeline that delivers within the resource constraints that exist. To put this into the context of portfolio integrations, and the ultimate need to harmonize activities at both a product and portfolio level, there are 4 key activities that need to occur:
Align on the strategy and agree a single harmonized roadmap
Identify the opportunities for synergies, efficiencies and resource sharing
Harmonize the NPD processes and develop a common language
Create visibility and control across the pipeline (One source of truth).
Harmonization of Innovation Process and Systems
Success in merging R&D organizations requires existing momentum to be maintained, and even accelerated. But at the same time project pipelines need to get revised and efficiencies must be identified. The pace at which you're able to manage these changes will be defined by organizational culture, competitive demands, and / or logistical considerations of the day, but the key to achieving results is rapid alignment of terminology and process steps.
Copied below is an example of two hypothetical charts. The first illustrates the initial misalignment that's common when the processes of two or more organisations are merged.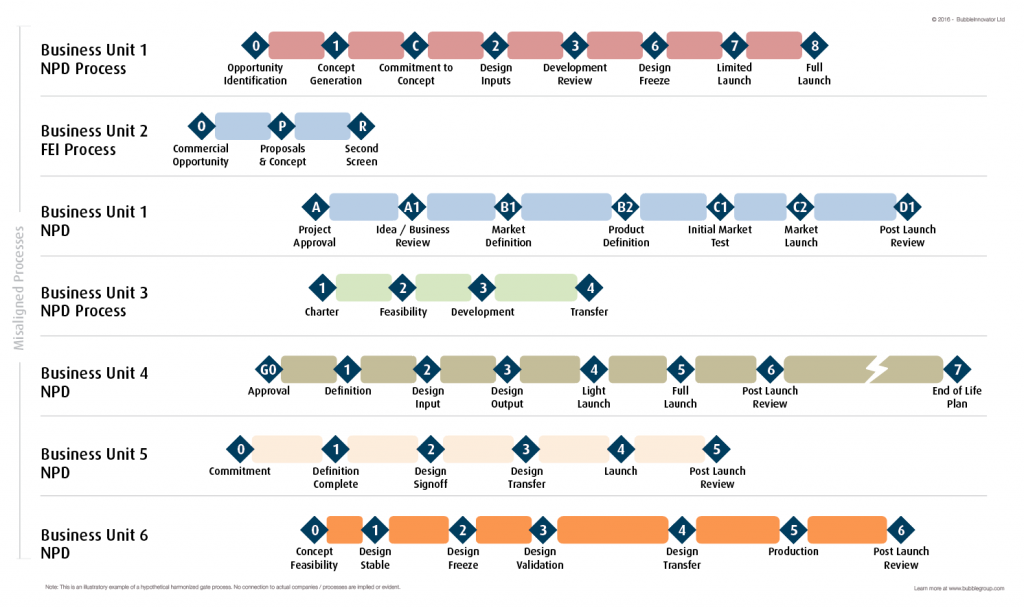 Fig. 2: When two or more Product Portfolios come together broadly similar product development processes can be misaligned as far as Phases and Gates are concerned. Download Fig. 2 HERE at High Resolution.
The second represents an alignment in understanding that can lead to a harmonization of process where projects and programs can ultimately be managed under a common structure (Illustrated in green).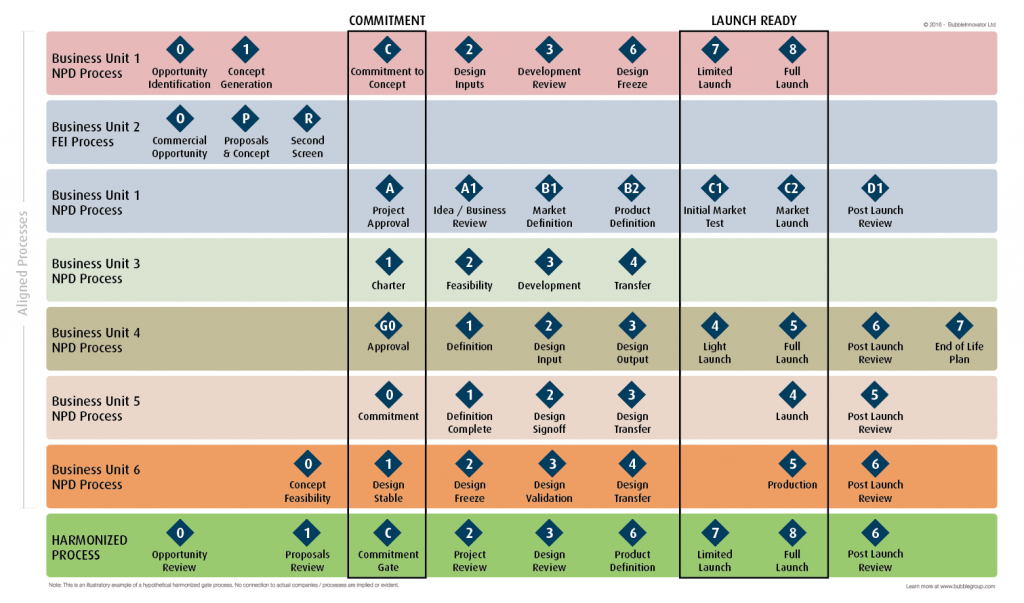 Fig. 3: You may not instantly be able to harmonize language, definitions and activities, but commonalty can always be found once you're clear on what you're fundamentally committing resource to at each gate. Download Fig. 3 HERE at High Resolution.
Moving from the former to the latter will likely take a few steps, and time, to resolve. But the illustrations highlight that: If you first understand what's fundamentally similar, you can then move towards full alignment of both terms and process to create a harmonized product development framework.
Planning your Integration, Execution and Deployment
The images above are a useful high level example of a typical harmonization process. Clearly, there's no one-size fits all methodology or time taken between start and end. I've known companies move from start to end within as little as 3 – 6 months and I've known others where it's taken several years. Of course the detail and timings will need to be adapted to suit each circumstance, but it should be useful as a starting point for internal discussions. It's really dependent on the barriers to implementation and the degree of change management required in your particular circumstances.
Feel free to download either as full resolution overviews for your own use.  Comments, questions and suggestions for other posts are welcome. If you'd like to read what Bubble Innovator™ can do to automate portfolio and prioritization for, please click HERE or: