PPM Software for Public Sector Development Projects
The Crown Commercial Service (CCS) selects Bubble Innovator Ltd as a G-Cloud 8 supplier on the Digital Marketplace, opening up numerous opportunities for Project Portfolio Management (PPM) services to the public sector.
Bubble Innovator Ltd, an enterprise software provider and developer of cloud based Project Portfolio Management (PPM) solutions, today announced that it has been accepted as a G-Cloud 8 (G8) supplier by the Crown Commercial Service (CCS) in the 2016-18 iteration of the UK Digital Marketplace G-Cloud Framework.
Following a rigorous application and assessment process, Bubble adds 'Crown Commercial Service Suplier' status to the growing list of accolades for its Top Rated* PPM Software Bubble Innovator™, which can now be procured by all UK public sector bodies.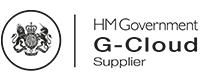 The accreditation also recognises Bubble's ability to work in accordance to the UK Government's Technology Code of Practice and Service Design Manual. Meaning the company's auditing, transparency, governance and data protection measures stand up to required Crown Commercial Service standards.
Launched in 2012, the G-Cloud Framework is a multi-supplier vehicle for the purchase of cloud-based IT Services by Central Government and the wider public sector. Allowing buyers to engage directly with suppliers, G-Cloud enables qualified providers to display their service offerings in a purpose-built online catalogue hosted on the UK Government's Digital Marketplace.
Providing a route for commercial companies to engage with the public sector, G-Cloud also ensures that digital services procured by the public sector benefit from faster and simpler software implementations than could be achieved through individual contracts and tendering processes. Since its launch, total sales through G-Cloud now top over £1bn.
Peter Hoyland, Co-Founder and Director at Bubble, said "We are pleased to support the UK Government's initiative to drive adoption of cloud computing via the G-Cloud Framework. This is a ringing endorsement of Innovator™ PPM software and will allow us to broaden our client base within the UK public sector. We are looking forward to the new opportunities presented via the Digital Marketplace and to expand our presence within this vital part of the UK economy."
For further enquiries on Bubble's involvement in G-Cloud 8 or its PPM Software solutions and services, please visit the Digital Marketplace at www.digitalmarketplace.service.gov.uk or visit our Contact Us page to speak to us directly.
About Bubble
Founded in 1999 as an Innovation Management Consultancy, the company has since grown to become a top rated software solution provider. Bubble Innovator™ is our cloud-based enterprise Project & Portfolio Management (PPM) solution for managing Innovation and complex development projects. It helps leaders and their teams shape their portfolios around strategic goals and optimise for both short and long term value. Differentiated by a focus on usability, it's used successfully, across multiple sectors to select the right projects, execute them reliably and continuously improve productivity. Fully configurable, it's designed to be an always up-to-date, single source of truth for fact-based decision-making and project delivery.
About Crown Commercial Service
The Crown Commercial Service (CCS) works with both departments and organisations across the whole of the public sector to ensure maximum value is extracted from every commercial relationship and improve the quality of service delivery. The CCS goal is to become the "go-to" place for expert commercial and procurement services.