Global project portfolio management software market report 2017-2021
Bubble joins Technavio's list of prominent PPM software vendors
Following the publication of the report: Global Project Portfolio Management Software Market 2017-2021, Bubble are pleased to announce that they have joined Technavio's list of Prominent PPM Software Vendors.
In its recently-released (70 page) research report, evaluating development scenarios for the IT Project Portfolio Management (PPM) software services market, leading technology research and advisory company Technavio, considered the prospects for the global project portfolio management software market between 2017-2021.
Based on in-depth market analysis, inputs from industry experts and an evaluation of over 20 PPM Software vendors, the report includes in-depth insight into: the key PPM vendors operating in the market today, the forces driving an uptake in PPM Software, as well as trends in Project Portfolio Management.
Global project portfolio management software market report 2017-2021 
To access more information and the full contents list for the Technavio Global project portfolio management software report, click HERE
In reference to Bubble's inclusion in the publication, co-founder and director of Bubble, Peter Hoyland commented:
"Being cited by Technavio as a prominent PPM software vendor is very pleasing.  It comes just a month after TrustRadius awarded us Top-Rated PPM software vendor status for the second year in a row. It's a further validation of our powerful, yet easy-to-use and deploy Enterprise Project Portfolio Management software".
In the report Technavio predict that the market for PPM Software will grow and continue its shift away from its on-premises origins. Bubble co-founder and director Jonathan Platt added that he was not surprised to see this: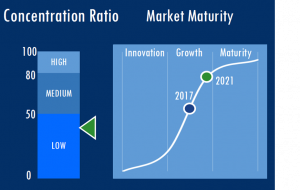 "Project Portfolio Management has become one of the strategic differentiators for organizations. There's a real benefit to focussing all your attention on your project and portfolio data.
The worry that your software's not aligned to the changing needs of your business is removed altogether with a cloud based approach to PPM."
The report also highlights that growth and momentum is expected to accelerate during the forecast period, as a result of:
• The overutilization of company resources.
• An increasing focus on analytics and agile practices.
• The rise in need for global project collaboration.
If any of the these challenges affect your organization, click either of the buttons below to see how Innovator™ PPM Software can help you!
To discover Innovator™ PPM Software's capabilities for yourself, click an icon below:
About Bubble: Bubble is a leading provider of cloud based Project Portfolio Management Software. Our Bubble Innovator™ PPM solution helps organizations to select the right projects, execute them reliably, and improve productivity across their enterprise. Currently trusted to manage over $4billion worth of projects worldwide, we have instances across a diverse and global customer base.
About Technavio: Technavio is a leading technology research and advisory, company with a global coverage, The company was founded in 2003 in London and focus on emerging technology trends that can shape markets. With about 400+ analysts globally, they cover more than 500 technologies across 80 countries. The company has proprietary databases and develops over 2000 pieces of research every year.
Footnote: Bubble are not clients of Technavio or its parent company Infiniti research and we have not paid to be featured in this report. Bubble was interviewed as part of Technavio's wide ranging primary research interviews with industry experts, vendors, resellers and trade associations.