New report into the Product Roadmap Software Marketplace is published.
Bubble, one of 10 vendors reviewed in-depth by TIM-Consulting and Fraunhofer Institute.
Bubble is pleased to share news that our PPM Software Bubble Innovator™ features in a new and independent review of the Roadmapping software marketplace.
In its recently-released (49 page) research report, 'Roadmapping Software Studie', TIM-Consulting and Fraunhofer IAO evaluated a number of prominent vendors offering technology and product roadmapping software.
Roadmapping Software Study 2018
To access the IM-Consulting and Fraunhofer IAOreport, click HERE
Note: Opens in new tab. German language report
The intent of the study has been to inform the decision-making of individuals within company's considering the purchase of a roadmap software tool.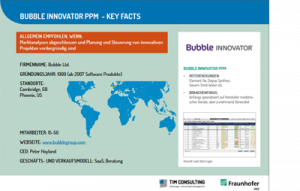 Based on two questionnaires, and an in-depth interview, the team at TIM-Consulting and Fraunhofer IAO investigated each company's:
Roadmapping methodology, graphical interface, system interface, data storage methods, company characteristics, and integrations.
Due to wide variation in the features and functionality of available solutions, the report doesn't compare, or rank, products against each other.
Instead, it sets out to reduce the need for individual companies to do their own intensive research. It achieves this by presenting insights into the relative strengths, weaknesses, and differences between each of the major technology / product roadmap software solutions currently available in the market.
Which is the best product roadmap software for you?
The report covers the following Technology / Product Roadmap software products in detail:
Accolade
Bubble Innovator™ PPM
Inspird roadmap
Itonics roadmap
Onedesk
Productplan
Receptive
Roadmunk
Sharpcloud
As well as one-page summaries of:
Acceler300
Accept360
AHA !
Casual.PM
Craft
Feature Map
Innovation Framework
Intrapro Innovation Roadmapping
Planisware
Planview
Enterprise Platform
To review Bubble's Technology / Product Roadmap solution in more detail, click this LINK or explore the rest of our software's functionality using the buttons below.
About Bubble: Bubble is a leading provider of cloud based Project Portfolio Management Software. Our Bubble Innovator™ Project Portfolio Management (PPM) solution supports end-to-end governance of company portfolios. Its purpose is to help users manage the complexities of a distributed workforce, collaboratively.
Incorporating Agile, Waterfall, and other processes, it allows leaders and teams to manage portfolios of projects, resources, programs, and investments, within a single integrated solution.
Footnote: Bubble are not clients of TIM-Consulting or Fraunhofer IAO  and we have not paid to be featured in this report. Bubble was interviewed as part of a wide ranging primary research process consulting leading vendors offering technology / product roadmap software solutions.